Road rage is a common practice on the streets and highways of America. With more vehicles on the road each year combined with the busy nature of modern life, pulling over to engage in a violent exchange with another driver is cumbersome and time consuming. Drive-By Road Rage Signs makes your road rage simple and easy, eliminating the inconvenience of a curb side brawl while presenting your angst in a more understandable manner than an ambiguous horn or middle finger. Simply flash a sign appropriate to the occasion at a neighboring driver to let them know that their traffic infraction is not only a disrespect to you, but other drivers among them. Similar products cost up to $19.95, but Mental Discharge is proud to provide these quality signs free of charge.
Help offending drivers take the guess work out of your antagonism without the need for brandishing an unregistered firearm. Each sign has been designed with quality in mind, crafted in stunning 300dpi.
Instructions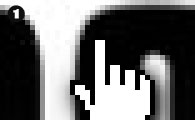 Select a desired sign.
Select the sign you want by clicking its corresponding image with your mouse. This act is performed by engaging impulses from your brain to your arm via the nervous system.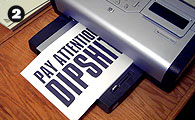 Print your desired sign.
Print your selected sign from your printer using your favorite graphics or printing software. Use a thicker posterboard-like paper to prevent flaccidity in your sign.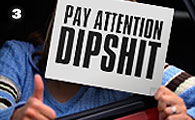 Present your desired sign.
Show the appropriate sign to its respective driver. Just be sure not to be screwing up traffic yourself while holding a sign outside your car window.
Disclaimer: Mental Discharge is not liable for any consequences that come your way as a result of using these signs. If you crash because you can't hold up a sign and drive at the same time or some gun-toting hip gangster wanna-be blows you away, it's not our fault.