The Dork Squad
CockBlocker™ Revolutionizes Online Dating
Cut through the artifice and get the real story on Mr. Right.
When Amanda Stevens heard about online dating in early 1999, the 27 year-old graphics designer says she swore off the singles bar scene forever. But after four years of bad dates and dishonest relationships, the Oxnard, California native says she was close to swearing off dating forever.
That is, until she picked up Symantec's new CockBlocker™ Security Suite.
"When I started using online dating services like Match.com, I was so excited. Months earlier I was spending $30 a night on cocktails and dropping hundreds of dollars on expensive outfits, just waiting for a nice lawyer or NBA superstar to chat me up and take me home," Stevens said. "With Internet dating, I can surf for singles in my bathrobe, but finding the right guy just hasn't gotten easier."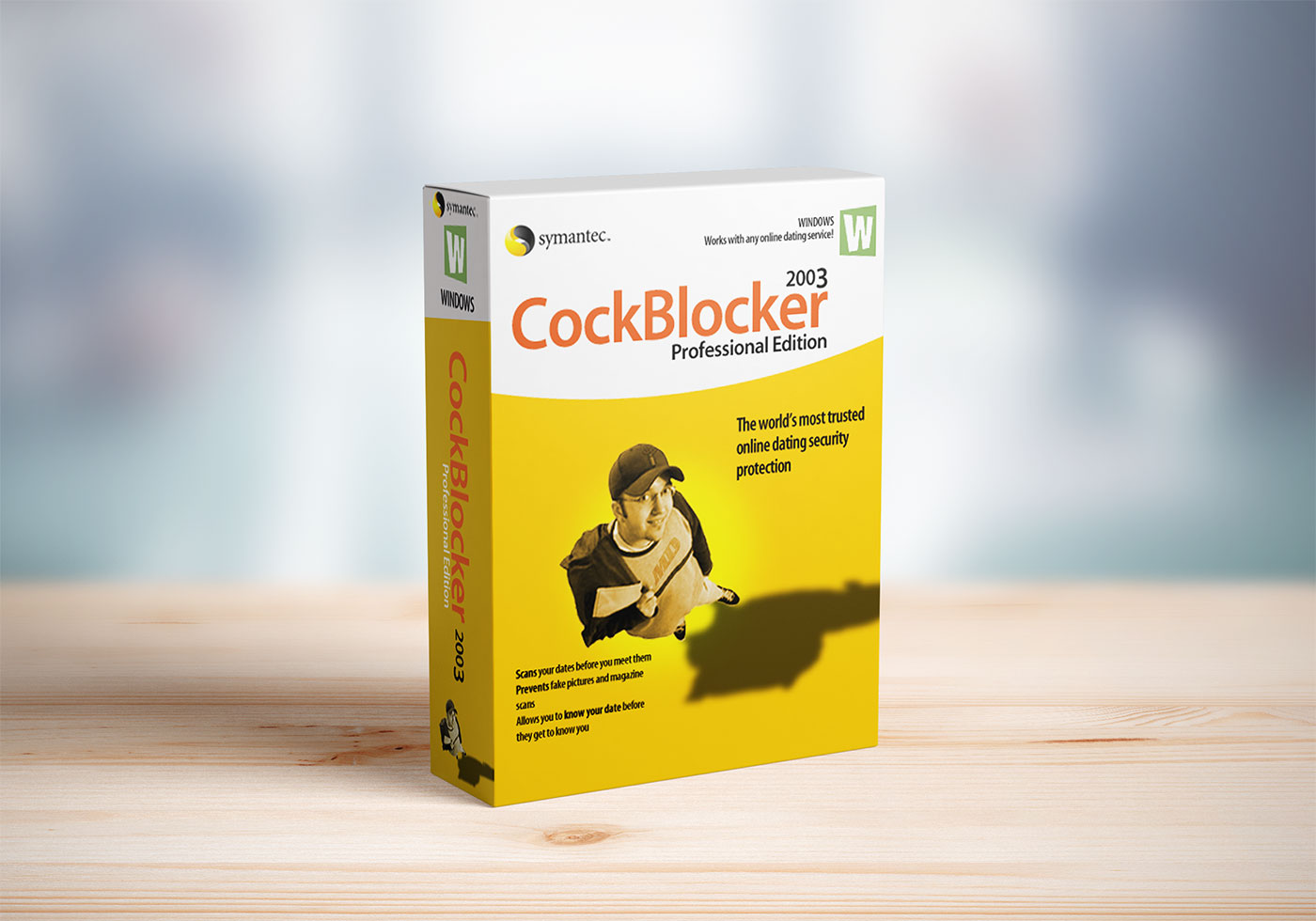 The Ultimate Online Dating Security Software
Symantec CockBlocker 2003
Amanda claims that out of the 47 Internet potentials she contacted and dated, none of them were what they claimed to be.
"You'd have guys claiming to look like Freddie Prinze Jr., when they'd really look like Freddy Krueger," Stevens said. "One guy I met claimed that people likened him to Tom Cruise. Turns out it's because he's a 5'4" closet homosexual."
Once installed, Symantec's CockBlocker™ allows users to input up to three dating profiles at a time. The software then takes any additional information about the potential suitor, including AIM name, ICQ number and zip code, and scours the Web looking for more details about that person.
Lying about your looks is tough offline, even in the darkest, smokiest bar. On the Internet, less than honest thrill seekers encounter no such problems. A few clicks on a simple form from Matchmakers.com can turn an obese homemaker into Tyra Banks, complete with doctored photos. These services rely on the honor system in a medium increasingly frequented by people trying to escape their normal lives.
One guy I met claimed that people likened him to Tom Cruise. Turns out it's because he's a 5'4" closet homosexual.
CockBlocker™ cuts through the artifice, "spidering" through link after link associated with a person or screen name in question until it comes up with a detailed report on its subject. Any pictures, personal Web pages, arrest warrants and resumes associated with the person come up at the touch of a button, allowing online matchmakers to get the real story on Mr. Right.
"I don't know how I ever dated without CockBlocker," Stevens said. "I've exposed convenience store clerks pretending to be high priced lawyers and old men masquerading as Boy Scouts. I was pretty interested in this one guy called DragonDude2019 until CockBlocker told me he got fired from the San Diego Zoo for 'lewd and inappropriate conduct' in the reptile house."
Normally, Stevens says her friends would weed out the losers and the low-lifes from the dance clubs she attended. Online, though, Stevens was flying solo.
"When we at the bar, don't nobody get near [Amanda] if he don't look like Mr. Right," said Shamilla Clark, longtime friend and self-described dating goddess. "One time we thought this guy was cute because he looked like a grownup Fred Savage, you know, from the Wonder Years? Turns out, he was Fred Savage. We ain't having none of that."
Sensing a need to incorporate the 'buddy system' into a personal computer, programmers at Symantec, authors of the popular Norton Antivirus and Systemworks software, began working on dating software that would "bring truth to the table," according to Linda Stover, Vice President of Marketing.
"When singles hit the dating scene in real life, they've already got a very important filter screening out unattractive, undesirable partners and their friends," Stover said. "But with online dating, singles are on their own to separate fact from fiction. There's a gap the size of the Grand Canyon out there, and our new CockBlocker software fills it."
"The Internet is a fantasy land, and that's a problem for people seeking real, honest relationships," Stover continued. "Our CockBlocker software acts like your own private detective, checking the facts and chucking the chumps."